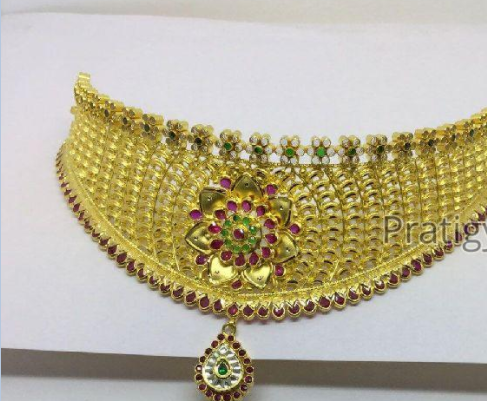 A choker is a close-setting necklace that you can wear around the neck. It is naturally 14 to 16 inches in length and available in a different pattern. Jewellery manufacturers may use different materials for making designer choker necklaces.
Beads, metal, leather, velvet, and plastic are unique materials useful for making choker necklaces. Popular metals are useful for making choker necklaces are gold, silver, platinum, and copper. It can be available in different designs with a pendant and studs. Since 2010, the choker necklace has become a popular jewellery form that is easy to wear on any occasion.
What is an Antique Choker Necklace?
An antique choker necklace is one of the stylish necklaces that people can wear on different occasions. Many world-famous music celebrities wear choker necklaces at their musical events. The iconic semi-antique gold choker design can enhance a unique fashion statement for the global fashion trend. Leather, pearl, silver, gold, and copper are the unique materials for a choker.
History of Choker Necklace :-
The Sumerian artist first crafted a gold choker necklace around 2500BC. People of ancient Egypt also wore choker necklaces. After some time, the Sumerian people made choker necklaces with copper.
Gradually, it became popular around the world. During the french revolution, people preferred to wear chokers for specific rituals. Young women preferred to decorate themselves with a unique designer choker necklace. In recent years, Various Hollywood heroineshave worn choker necklaces at the internationalaward ceremony program.
Types of Choker Necklace :-
Choker necklace is a unique fashion trend of the 21st century. People prefer to wear a choker necklace on different occasions, and the glamorous and eye-catching choker necklace can change your fashion statement drastically.
1. The black choker necklace is a popular necklace that women prefer to wear at parties or musical events.
2. A gold choker necklace is the topmost priority for any marriage occasion or reception party, and it can give a classy and traditional flavour to your fashion.
3. Silver choker necklace looks excellent with western long or short dresses. It can also look excellent with crop tops or off-shoulder dresses.
4. Pearl choker necklace looks excellent in a wedding ceremony. Many people prefer to wear a pearl choker necklace at the corporate party. If you want to dress in a classic way, you can wear a pearl choker necklace to give a royal look.
5. A diamond choker necklace is very expensive that people wear at a marriage ceremony or wedding party.
6. The leather choker necklace looks great with jeans or trousers.
Process of Making a Gold Choker Necklace :-
The art of jewellery making is a thousand years old. Over the year, people have developed unique technology and processes to create fashionable gold jewellery. Jeweller manufacturers bring lots of unique designs from various parts of the world to make eye-catching gold necklaces.
Semi-antique gold choker manufacturers Mumbai first melt the solid gold to produce gold necklaces. Gold jewellers use wax carving for making designer gold jewellery. Handmade gold jewellery has huge demand in the market due to its unique design. The price of the gold necklace depends on the quantity and design of the gold necklace.
Process of Selecting Gold Choker Manufacturer
It is not easy to select authentic gold choker necklace manufacturers, but you can search on the internet to get the best quality choker necklace, manufacturers. You should verify the authenticity certificate of the gold manufacturers and ask them to show the hallmark sign while buying the gold jewellery. It can protect you from becoming a fool by purchasing a false gold choker necklace.