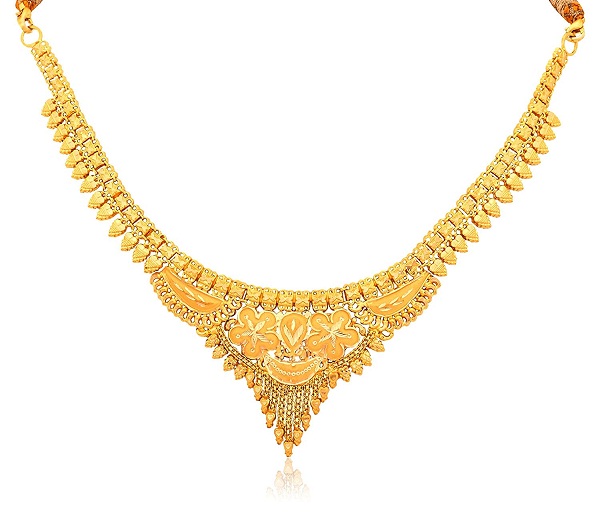 GOLD! For some it is an investment and for some it is their taste, but either ways, gold has fascinated many people and has its own standard in the market. Specifically talking about India in here, people can bizarre buying gold when a wedding comes to the forefront in the family. Well, why not for it is the time to flaunt your precious ornaments and look the best and no less than that. Right? Gold has its own charm and is such an ornament that never goes out of fashion. In this article, we will be discussing about different types of gold necklaces. Take a look:
1. Simple gold necklace
The ones who believe in "simplicity is the best policy" then a simple gold necklace would please your taste. A simple necklace is not that elaborate in design, but looks superbly classy when worn. The chain of such simple necklace might be thick and would help in making the pattern stand out amongst others, giving a nice fall on the neck.
2. Heavy gold necklace
Now, this one would be the choice of majorly brides. And when we talk about brides and gold necklace, how can heavy golden jewellery stay behind in the race? Strikingly carved and heavy in look, brides seem to wear the best golden jewellery ever. With an amazing fall on the neck sitting lovingly on it, heavy gold necklace is go-to option for the ones who love heavy jewellery.
3. Chain style gold necklace
There is no denying the fact that gold jewellery exudes richness and royalty. One can go for something like a sleek chain and a matching pair of earrings in lightweight. Such gold necklace sets goes well on a simple and small functions, and even in office also, sometimes. The pendant and earring of such gold set remain light weight, simple in design, and delicate.
Things to keep in mind while buying a gold necklace:
It is rightly said that "all that glitters is not gold". One must be very carefully and smart while buying gold. Whether the gold is pure or not, whether it has hallmark or not, there should be a lot of questions that must come to your mind before buying any gold piece. Below are a few things that you must keep in mind before buying gold jewellery:
Ø Always check the hallmark on the studded necklace before buying your choice.
Ø Wear and check the look of the studded necklace before finalising.
Ø Also, make sure that the studs are intact.
Ø Try and check the lock also of the studded gold necklace.
Ø One must also cross-check the market price of the gold before buying anything.
There are many Studded gold necklace suppliers in Mumbai and antique gold necklace manufacturers in Mumbai, with whom you all can get in touch and purchase the best-suited gold necklace for yourself!