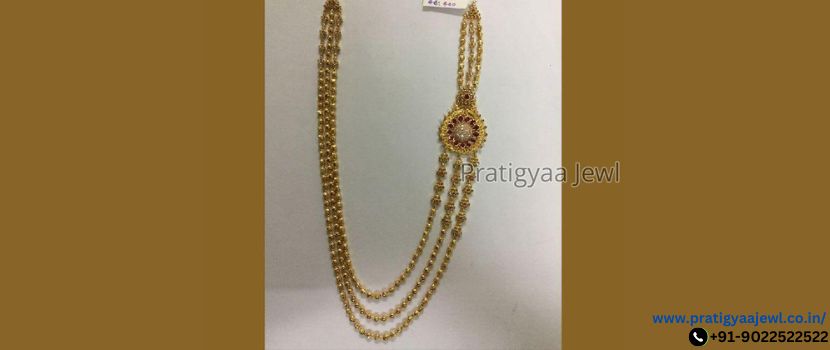 Gold is a preferred material for jewellery because of its strength, elegance, and adaptability. Particularly long chain necklaces provide several advantages over other kinds of jewellery. Some of the benefits of gold long chain necklaces by Gold long chain suppliers in Mumbai include the following:
Versatility
Long chain necklaces are adaptable and go with many different outfits. They are appropriate for both casual and formal settings and may be dressed up or down. There is a long chain necklace to fit every taste because they are available in a variety of styles and patterns.
Timeless
Gold long chain necklaces offer a classic appeal that other pieces of jewellery might not have. They are a timeless adornment that has been worn for ages and will always be in fashion. It is an item of jewellery that may be handed down from one generation to the next. It is always valued as a long gold chain necklace.
Durability
A strong metal that can resist normal wear and tear is gold. Compared to other forms of jewellery, long chain necklaces are less likely to break or sustain damage. Additionally, they are less prone to tangling or getting trapped in clothes.
Investment
A precious metal that holds its value throughout time is gold. A gold long chain necklace is a wise financial investment because it may be pawned or sold later if necessary. It can be treasured for both its sentimental and monetary value and passed down as an heirloom.
Health Advantages
A lengthy gold chain necklace might be beneficial for your health. Gold is said to have therapeutic qualities and helps ease tension and anxiety. Considering that it is hypoallergenic, it is a wonderful option for those with sensitive skin.
Attention-Grabbing
An eye-catching item that can add glitz and refinement to any ensemble is a gold long-chain necklace. It could be a focal point that grabs attention and improves the overall appearance.
Simple To Layer
Layering long chain necklaces with other necklaces is simple and results in a chic and fashionable style. They may be combined and matched with various lengths, designs, and metals to provide a special and individual aesthetic.
Suitable For Any Neckline
Any neckline, from high collars to scoop necks, looks good with long chain necklaces. To create a style that complements the neckline of the garment, they can be worn alone or stacked with other necklaces.
Unisex
Unisex jewellery that both men and women may wear is long chain necklaces. They may be fashioned to fit any gender or individual preference because they are flexible pieces of jewellery.
Easily Maintained
Gold long chain necklaces are simple to care for and may be cleaned with mild soap and water. You can also use a basic jewellery cleaner. With appropriate care, they may last a lifetime with little upkeep.The advantages of long gold chains over other forms of jewellery are numerous. They are adaptable, classic, strong, and might be a wise investment. Additionally, they are eye-catching, simple to layer, and go well with any neckline. They are an excellent option for anybody. They are ideal to add as a timeless and fashionable piece of jewellery to their collection. They are a unisex item and simple to care for.