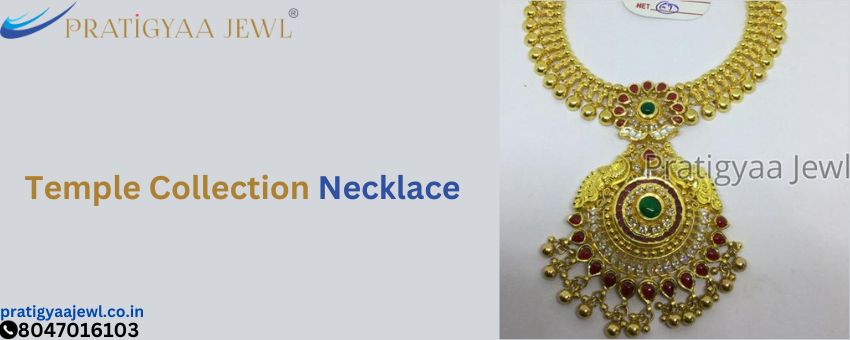 A Temple collection necklace is an elegant and timeless piece of jewellery. It has captivated many hearts. This exquisite jewellery is inspired by the intricate architecture and designs of temples that feature, motives, intricate patterns, and craftsmanship. The temple collection necklace is a favourite among many jewelleries, enthusiasts for its artistic appeal, traditional and cultural significance. It also complements a wide range of outfits. This article discusses the unique characteristics of a temple collection necklace, its cultural significance, and its popularity in the fashion world. With the help of reputed Temple collection necklace manufacturers Mumbai, you can get this signature jewellery.
What are the Characteristics of a Temple Collection Necklace?
Intricate Design
They have an intricate design called on them, which often features detailed patterns and motives inspired by traditional temple architecture. This includes floral patterns, geometrical shapes, and depictions of deities. It provides depth and richness to the jewellery. Check with the Temple collection necklace manufacturers inMumbai for customising these jewellery.
Antique finish
It comes with an antique finish that gives it a time disadvantage for parents. This is achieved through techniques such as distressing and oxidation. You can get this finish in both gold and silver by check with the Temple collection necklace manufacturers in Mumbai.
Long length
These necklaces Are usually longer, which allows them to be trip elegantly around the neck and chest. The extended length makes it suitable for both contemporary and traditional outfits. Make sure to check the desired length by contacting the Temple collection necklace manufacturers in Mumbai.
Signature pendants
The signature pendants of the temple collection necklace are a central focal point. It is often larger and more ornate than the typical necklace. It may feature intricate, carvings, elaborate, embellishments, or an image of a deity.
Matching Earrings
Most of the temple collections, necklaces and are sold in sets. They come with matching earrings that complement the design of the necklace. This offers a coordination to the overall appeal of the outfit.
Cultural Significance
Temple collection. Nicholas has a deep cultural significance in many parts of the world. They are rich and diverse and have religious traditions.
Religious Symbolism
The Temple collection necklace symbolises the religion through the motives and symbols, holding great significance in the culture. These motives represent the gods, goddesses, and other divine elements.
Wedding and Festivals
They are worn during special locations like weddings and festivals and symbolise tradition, spirituality, and a secret bond between individuals. You can source these jewelleries from a trustworthy Temple collection necklace supplier in Mumbai.
Traditional Attire
These necklaces go well with traditional attire, such as a sari, lehenga or another ethnic garment. It enhances the overall look while adding a touch of cultural authenticity.
Heritage and Legacy
These Temple collection necklaces and often passed down through generations. They are treasured heirlooms, cutting the legacy of a family 's heritage and cultural roots.
Popularity in the Fashion World
Temple collection. Necklaces may have a deep cultural route but are also immensely popular in the fashion world. They Are aesthetically appealing and can elevate an outfit. They are available in best quality from a reputable Temple collection necklace supplier in Mumbai.